Polaris PRO XD 2000D AWD & Polaris PRO XD 4000D AWD Australia for Sale at Wide Bay Motorcycles Polaris in Glanmire, QLD | Specifications & Review Information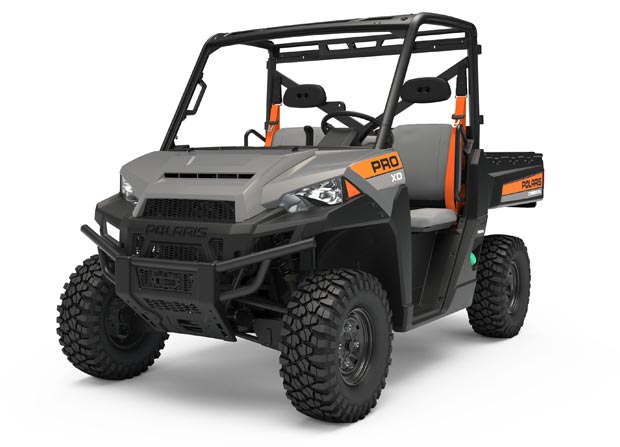 POLARIS® PRO XD™ 2000D AWD
Kubota 24HP Diesel Motor with 200 Hour Engine Service Interval
Speed Limited
Kevlar®-Backed Vinyl Seats
Heavy-Duty Jobsite Tires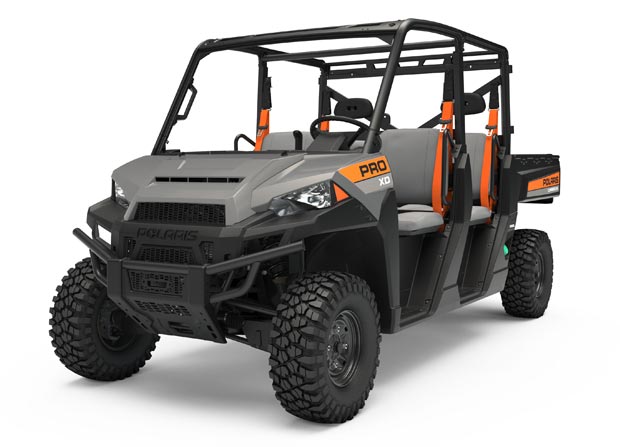 POLARIS® PRO XD™ 4000D AWD
Kubota 24HP Diesel Motor with 200 Hour Engine Service Interval
Speed Limited
Kevlar®-Backed Vinyl Seats
Heavy-Duty Jobsite Tires
INDUSTRY-LEADING DURABILITY
The Polaris PRO XD was designed with heavy-duty component to provide industry-leading durability.

INDUSTRY-RECOMMENDED POWER PLANTS
The powerful ProStar 570 engine is purpose-built and tuned up to deliver best-in-class 44 HP. This engine, paired with Electronic Fuel Injection (EFI) and True On-Demand All Wheel Drive, gives you the power and traction when you need it through tough weather and tougher terrain.

TOWING AND PAYLOAD
Industry-leading 2,500 pounds towing and 1,900 pounds payload

DRIVELINE COMPONENTS
Heavy-duty drive shaft, CVT boots and wheel bearings increase life expectancy

HEAVY-DUTY SEATS
All-new seats help resist punctures and tears

JOBSITE TIRES
All-new jobsite tires designed for longer life on hard-packed surfaces

HEAVY-DUTY POLY BED
Rust-free, dent-free bed with 1,250 pound capacity sized to fit a full size pallet.

INDUSTRY-LEADING SERVICEABILITY
The Polaris PRO XD has multiple industry-leading features to improve serviceability.

WARNING ALARMS
Vehicle fault alarms to notify users of potential issues that could cause serious damage to the vehicle. Alarms include low oil pressure, parking brake engagement, belt slip, and engine overheat

RELOCATED OIL DIPSTICK AND AIR FILTER
Easily conduct maintenance checks without having to raise the cargo bed

MAINTENANCE INTERVALS
The Pro XD provides up to 200 hours certified maintenance intervals for less in-field maintenance and reduced service costs.

FRONT AIR INTAKE
Improved air filter life and consistent engine performance

INDUSTRY-LEADING SAFETY FEATURES
With safety being top priority on the jobsite, the PRO XD delivers industry-leading standard features designed to improve jobsite safety

ORANGE SEATBELTS AND DECALS FOR HIGH VISIBILITY
Orange seatbelts and vehicle decals improve visibility to the vehicle and surrounding workers

STANDARD FACTORY-INSTALLED ACCESSORIES
Back up alarm, horn and mechanical parking brake come standard

SPEED LIMITED
Top speed of 26 mph for jobsite compliance, with option to further limit speed down to 15 mph

TIGHT SEALING CAB
The PRO XD and cab were engineered together to create the tightest seal possible, keeping harmful dust and weather out. Click here for more cab information.

DURABILTY
Durability is key to help prevent vehicle breakdowns. From upgraded driveline components like heavy duty bearings and drive shaft, to the industry's first hard-pack jobsite tire, the PRO XD will still be running when others are in the shop.

SERVICEABILITY
Down time kills productivity. That's why the PRO XD is designed for less frequent service, easier to conduct daily maintenance checks, and more sensors to alert the user of possible issues before they require vehicle service.

SAFETY FEATURES
Safety is number one for government and commercial users, and the PRO XD is engineered from the inside out for jobsite safety, including orange seatbelts and decals for high visibility, standard backup alarm and horn, and speed-limited for jobsite compliance.
| | | |
| --- | --- | --- |
| | POLARIS® PRO XD™ 2000D AWD | POLARIS® PRO XD™ 4000D AWD |
ENGINE & DRIVETRAIN
| | | |
| --- | --- | --- |
| Engine Type | 3-Cylinder Kubota® Diesel | 3-Cylinder Kubota® Diesel |
| Cylinders-Displacement (cc) | 898 cc / 24.5 HP | 898 cc / 24.5 HP |
| Fuel System | Mechanical Injection | Mechanical Injection |
| Transmission/Final Drive | Automatic PVT H/L/N/R/P; Shaft | Automatic PVT H/L/N/R/P; Shaft |
| Drive System Type | AWD - Ultra Turf | AWD - Ultra Turf |
| Cooling | Liquid | Liquid |
SUSPENSION/BRAKES/WHEELS
| | | |
| --- | --- | --- |
| Front Suspension | Dual A-Arm With Stabiliser Bar 22.9 cm Travel | Dual A-Arm With Stabiliser Bar 22.9 cm Travel |
| Rear Suspension | Dual A-Arm IRS With Stabiliser Bar 22.9 cm Travel | Dual A-Arm IRS With Stabiliser Bar 22.9 cm Travel |
| Front/Rear Brakes | 4-Wheel Hydraulic Disc With Dual-Bore Front Calipers | 4-Wheel Hydraulic Disc With Dual-Bore Front Calipers |
| Parking Brake | Park In-Transmission + Separate Mechanical Parking Brake Standard | Park In-Transmission + Separate Mechanical Parking Brake Standard |
| Front Tyres | 26 x 10-12; Duro® DI-2042 Power Grip (M/T) | 26 x 10-12; Duro® DI-2042 Power Grip (M/T) |
| Rear Tyres | 26 x 10-12; Duro® DI-2042 Power Grip (M/T) | 26 x 10-12; Duro® DI-2042 Power Grip (M/T) |
| Wheels | 12 x 6 HD Steel - Gloss Black | 12 x 6 HD Steel - Gloss Black |
DIMENSIONS
| | | |
| --- | --- | --- |
| Bed Box Dimensions (L x W x H) | 110.5 x 137 x 29 cm | 110.5 x 137 x 29 cm |
| Front/Rear Rack or Box Capacity | N/A kg / 567 kg | N/A kg / 567 kg |
| Fuel Capacity | 43.5 L | 43.5 L |
| Ground Clearance | 27.9 cm | 27.9 cm |
| Overall Vehicle Size (L x W x H) | 320 x 159 x 191 cm | 399 x 159 x 191 cm |
| Wheelbase | 215.9 cm | 297.2 cm |
| Estimated Dry Weight | 723 kg | 873 kg |
FEATURES
| | | |
| --- | --- | --- |
| Cargo System | Lock & Ride® | Lock & Ride® |
| Hitch Towing Rating | 1,133.9 kg | 1,133.9 kg |
| Hitch/Type | Standard 2 in (5 cm) Receiver | Standard 2 in (5 cm) Receiver |
| Instrumentation | All Digital Gauge, Speedomoter, Odometer, Tachometer, 2 Tripmeters, Hour Meter, Gear Indicator, Fuel Gauge, Engine Temperature, Hi-Temp Light, Clock, Clutch Belt Slip Warning, Glow Plug Indicator, Low Oil Pressure Indicator, Seat Belt Indicator, Parking Brake Engaged Alarm, Horn, and Backup Alarm | All Digital Gauge, Speedomoter, Odometer, Tachometer, 2 Tripmeters, Hour Meter, Gear Indicator, Fuel Gauge, Engine Temperature, Hi-Temp Light, Clock, Clutch Belt Slip Warning, Glow Plug Indicator, Low Oil Pressure Indicator, Seat Belt Indicator, Parking Brake Engaged Alarm, Horn, and Backup Alarm |
| Variants | | |